Venue and Maps
Registration will open at 8am daily in Newcastle University's Herschel Building.
Due to building works, the Herschel is not directly accessible from the main road. From Heymarket Metro station, walk up past Blackwell's bookshop and turn left past Campus Coffee into the university. Routes from this point are shown on the map below and directions will be posted during the conference.
Lunches, the conference reception and demos in the Great North Museum, and the conference dinner will be hosted by The Assembly Rooms in Newcastle city center.
Registration
To register for Pervasive 2012, please visit our registration site: https://www.regonline.com/pervasive-iswc-12.
Registration prices are shown below.
Early Registration
(by May 4, 2012)
Late Registration
(by June 1, 2012)
Onsite Registration
Conference
(Wed-Fri)
Non-Student
£420
£540
£600
Student
£280
£350
£420
Workshop
(Mon-Tue)
Non-Student
£120
£140
£160
Student
£80
£100
£120
Nokia Mobile
Data Challenge

Non-Student
£240
£240
£320
Student
£160
£160
£240
Registration is now open for the Nokia Mobile Data Challenge (NMDC) workshop (18-19 June).
All prices are in GBP.
Student registration requires a copy of a valid Student ID.
You can register for the main conference, the main conference & a workshop, or just a workshop.
Registration for Pervasive also includes access to ISWC sessions.
Doctoral consortium attendees will be provided with a code for free registration.
If you require a VAT invoice please email pervasive.local@newcastle.ac.uk.
Attendees requiring a letter from the conference organisers to support a visa application should complete the visa support letter request form (Word, PDF) and email it to pervasive.local@newcastle.ac.uk.
Accommodation
We have worked with the NewcastleGateshead Convention Bureau to offer a broad range of travel accommodation to suit all budgets.
To finance your travel or vacation with a loan, please visit https://www.travelerfinancial.com.
About Newcastle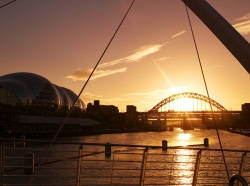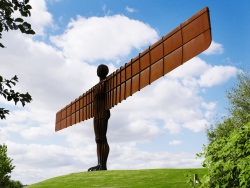 Newcastle is a lively, friendly and modern city, with a compact city centre and renowned cultural venues, including the Baltic Centre for Contemporary Art, host to the 2011 Turner Prize, and the Sage Gateshead music centre. The city was one of the birthplaces of the industrial revolution, playing host to the development of George Stephenson's Rocket and the invention of the first steam turbine. It remains a hub for world-class research and has been designated as one of six UK Science Cities.
For anyone wanting to escape to more rural surroundings, Newcastle is close to the Northumberland National Park and the historic cities of Durham and York are easily reachable by train.
The city also boasts excellent transport links: it is situated on the East Coast Mainline from London to Edinburgh and Newcastle International Airport offers direct flights to a range of international destinations. The Tyne and Wear Metro allows easy travel to local destinations, including the airport and the coast.
For further information about the city, please visit the NewcastleGateshead tourism website.